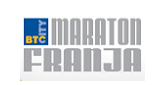 Maraton Franja BTC City
Date
Friday 07.06.2024 - 09.06.2024

Marathon Franja BTC City was premierely organized on 22nd July, 1982. The Organizers back then decided to name it after World War II hidden hospital (now protected as a war monument) which the marathon passes on its way, thus paying tribute to the bravery of medical personnel, taking care of wounded Partisans and allied armed forces. It has since become a yearly event on every avid Slovenian cyclist's itinerary.
The event is organized in June in Slovenia's capital city Ljubljana. It is a three-day event, with a time trial on Friday and a Family marathon taking place on Saturday, preceding the main marathon on Sunday. Family marathon rides in relaxed tempo over 28 km of suburban roads along the river and is intended primarily for parents with young children. Entire course is ridden in a paced group with a moderate tempo and, for security reasons, all roads are completely closed for all traffic but the cyclists.
Marathon Franja BTC City takes off on Sunday morning at 9 am. It is a 157 km long, circular race, with start and finish in Ljubljana. A shorter version of Marathon Franja BTC starts at 10h30 am and is 100 km long. Start and finish area are identical for both versions.
The qualifier distances will be
Men 19-59 /Women 19-49 : 157 km race
Men 60+ /Women 50+ : 100 km race
The course is diverse with two significant climbs (5 and 10%), mainly winding through back-country around the capital, all on paved roads. Course descends slowly from the last climb at the 90th km all the way to the finish line. Road towards the finish line is straight and wide allowing sprint finishes.