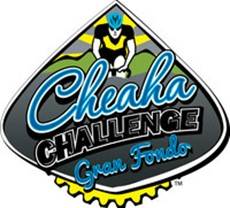 Cheaha Challenge Granfondo
Date
Saturday 18.05.2024 - 19.05.2024
City
Jacksonville, Alabama

Country
United States of America
The Cheaha Challenge Gran Fondo Century has a 30-year tradition and was originally created as a challenging route over the highest point in Alabama – Mount Cheaha – and then back. The ride starts and finishes on the sweeping campus of Jacksonville State University in Jacksonville, Alabama.
Jacksonville, population 12,548, is blessed to be the home of Jacksonville State University (JSU) the city's largest employer, with an enrollment of 8,314 on a sweeping 459-acre campus. The residents of Jacksonville are family-oriented and friendly, complementing the warmth and inviting atmosphere surrounding the community. Jacksonville is filled with Southern charm, historic churches, and homes, and a unique "public square" that help maintain the charm and grace of peaceful, small-town life. From JSU pep rallies to multiple festivals and farmer's markets to charming shops and eateries, activities revolve around the town square, a gathering place at the heart of the city. Jacksonville has award-winning barbeque restaurants, along with ones that feature a variety of cuisines.
Lucky for visitors, the region is known for its mild temperatures, clean air, and blue skies, and is located in the midst of four mountain areas – Coldwater, Blue, Choccolocco and Dugger, and includes the Talladega National Forest and Dugger Wilderness Area and the Alabama Scenic River Trail. Nearby is Cheaha State Park on Mount Cheaha, the highest point in Alabama.
Boasting 9,714 feet (3000m) of climbing, the century course tests the stamina and endurance of cyclists with challenging climbs, gaps, and descents.   The 100 miles – 160km race is a back and forth loop with Cheaha Mountain (2407 feet – 733m) as highest climb of the day before reaching the turning point at 50 miles for the century turnaround. The finish is back at the Pete Mathews Coliseum on Jacksonville State University's campus.
Besides the Cheaha Challenge Gran Fondo Century as official UCI qualifying distance, NEABA also offers distance options of 24, 44, 62, 84 and 126 miles on the same course as non-qualifying distances.
Major climb of the day is Mount Cheaha that has to be done twice (top after 42 and 57 miles) …but also other climbs with the names of White's Gap, Heflin Mountain, Horseblock, Not Again, OH SHIFT!, and Adam's Gap at the turning point have to be done twice.
Organized for the fourth time is a time trial on a closed 12-mile straight shot course (only three turns, all near the finish) where cyclists show their power as they race against the clock. The time trial is on Saturday and will be the start of the festival weekend.
Start of the time trial is from 7am onwards in Piedmont, finish is at the same spot as the Granfondo in Jacksonville.
KOM/QOM Competitions- Winners are eligible to receive awards for Overall or Age Group Awards.
3 Mile Climb
Overall M/F, 1st, 2nd 3rd place = total of 6 awards per KOM/QOM (Total of 12 awards)
1st Place: $100 (and KOM/QOM jersey)
2nd Place: $75
3rd Place: $50
Challenge Century Overall – Winners are eligible to win KOM/QOM (3 Mile Climb), but will not be eligible for Age Group awards.
Overall M/F, 1st, 2nd, 3rd = total of 6 awards
Besides cash cards, each OV winner will receive an award.
1st Place: $200
2nd Place: $100
3rd Place: $50
Total of $700 cash cards
Challenge Century Age Group – Overall winners of the Century ride are not eligible to win Age Group awards. Note: Age is determined by age on December 31 of the year, and Age Group Categories are set by UCI.
M/F, 1st, 2nd, 3rd = total of 60 awards, no cash card, just awards
0-18 50-54
19-34 55-59
35-39 60-64
40-44 65-70
45-49 70+