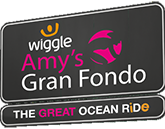 Amy's Great Ocean Road Gran Fondo

Amy's Great Ocean Road Gran Fondo is a world-class event held on fully-closed roads in one of the world's most idyllic destinations – the Great Ocean Road!
Starting in Lorne, the new course takes riders through the Otway Ranges, along a breathtaking stretch of the Great Ocean Road, before finishing on the main street in Lorne.
Amy's Great Ocean Road Gran Fondo is one of the few events on the Australian cycling calendar that provides the safe and unique experience of riding on a fully closed road. Coupled with a compulsory online safety briefing for all riders, Amy's Great Ocean Road Gran Fondo aims to be the safest event in Australia.
The distance, terrain and sensational scenery of the Surf Coast and Colac Otway regions makes for a challenging ride and the ideal location for a Gran Fondo.
As a result, some participants ride for the satisfaction of finishing the course, some participants ride to beat their previous times, and or their friends, whilst some ride to be the first across the finish line. The event caters for all these aims.
A feature of the course, the Otway Ranges, provides participants with a welcome challenge. Over the length of the course participants tackle 1530m, featuring 1 x category 2 climb, 2 x category 3 climbs and 1 x category 5 climb.
At the highest point, before descending towards the Great Ocean Road, participants will be at an altitude of 569m above sea level. The epic view of Bass Strait makes up for any pain experienced during the climb.
The entire 130km course will be fully closed to traffic, providing riders with the safest possible environment. This is a rare opportunity as Amy's Great Ocean Road Gran Fondo is one of only two annual events held on the Great Ocean Road, which has full road closure! Riders will be supported with lead vehicles, neutral mechanical support, medical support and SAG wagons throughout the event. Feed Stations/First Aid/Rest Stops will be located at different locations.
Compulsory safety briefings will be conducted on Saturday 23 October on the hour between 11am – 5pm and Sunday 24 October (6am) at the event headquarters in Lorne. You must select a safety briefing timeslot within your registration. All riders will be issued with their timing chips following their briefing. A detailed schedule for the safety briefings published after the close of registrations.