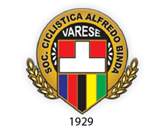 Tre Valli Varesine
Date
Saturday 30.09.2023 - 01.10.2023
The Tre Valli Varesine classic is one of the oldest classics in the world and is always organized on a Tuesday early October. The organizing committee SC Alfredo Binda decided in 2016 to also add a granfondo on the Sunday before so that also cyclotourists could enjoy the course and region. In 2018 Varese held the 2018 UCI Gran Fondo World Championships.
The city of Varese is one of the main towns of the Lombardia region and has 82.000 inhabitants.  The region is famous for its various lakes like Lago Maggiore, Lago di Lugano, Lago di Como and lago di Varese.  Three of these lakes are also part of the Granfondo course.
The city is only 5km away of the Swiss border and is called citta giardino (garden city) because of it picturesque location.
Varese is famous for the annual Tre Valli Varesine and has organized the 2008 Elite Road World Championships.
The time trial with start and finish at the Varese Ippodromo (horsetrack) is an out-and-back loop of 22km with a first upgoing part towards the turning point in Valganna before coming back towards the Ippodromo. It's a course for real time trial specialists with a lot of power and straight lines.
The road race with start and finish in the city center of Varese (Via Luigi Sacco) will have a first upgoing part of 12km towards the first climb of the day, the climb of Alpe Tedesco (German Alps) which is the hardest and highest mountain of the race.  After a technical downhill, the course winds further on the borders of the Lago di Lugano before starting the second climb towards the statue of Madonna di Ardena.  The 103km then makes a shortcut while the 130km Granfondo continues further up to Montegrino Valtravaglia before jumping down again towards the borders of the Lago Maggiore where the fourth climb of the day, Roggiano – Valtavaglia starts.  The two courses meet again in Mesenzano for a second flatter part before hitting the final upgoing kilometers towards the city center of Varese and the finish line.
The mediofondo is the official qualifier distance for all men 60+ and women 50+, all younger riders have to do the Granfondo to qualify for the World Championships.